Infrared360® is a Cloud-Native, Single-Interface Solution for Secure Administration, Monitoring, Synthetic Transactions, User Auditing, and Real-Time Analytics of All Your Enterprise Middleware Environments.
The Only One

The ONLY Enterprise Messaging Monitoring and Management Solution that:
True Real-Time™ Monitoring AND Complete Middleware Administration
Don't let cloud platforms, containers, and other modern distributed architecture challenge your Service Level Objectives. Unlike other solutions, that write to logs and then trigger alerts from averages in those logs (causing oftentimes critical delays), Infrared360® provides True Real-Time™ monitoring with automatic notification of potential problems so you can maintain an optimally performing middleware layer. One secure, intuitive interface lets your IT teams monitor and manage:
Enterprise Messaging: IBM® MQ, Tibco/EMS, IBM IIB/ACE, and Apache Kafka
Application Servers: WebSphere, Tomcat-Server, JBoss
Web Services: SOAP, REST, URLs
Appliances: MQ Appliance, DataPower
Other native features provide advanced tools for test, development, and DevOps staff in addition to middleware administrators.
Auto-Discovery. Any objects, as soon as they have been created on any OS, including Queue Sharing groups and transmission queues, are auto-discovered so you can instantly determine if the allocated objects are correctly defined for availability to applications or subsystems.
Analyze real-time and historical data to proactively solve problems
Manage AND monitor endpoints on any OS from 1 place using a simple, intuitive GUI
Maximize application availability, mitigate risk, and reduce operational costs with proactive problem detection and automated resolutions
Identify data trends and establish baselines for capacity planning
Provide secure, smart, self-service access with role-based access to objects and/or message data through integrated search capabilities
Cut time and training costs with a simplified, easy-to-understand, Web-based administration interface
Improve security with Trusted Spaces™, ensuring that only authorized users have access to infrastructure objects
Breeze through your next security audit with complete audit trails of all user activity
Plus, built-in SOA service interfaces and 100% J2EE architecture lets you EASILY integrate with third party systems, programs, and processes so integration with central notification consoles like Service Now, Netcool, and others is a snap.
Trusted Spaces for Smart, Secure Self-Service IT Administration.
Our unique Trusted Spaces™ feature lets you keep users seeing and working only in the areas they should and promotes secure collaboration across departments, teams, locations, and partners. This powerful feature set allows or limits visibility to objects such as Queues, Topics, Consumers, Channels, Applications, Flows, and other integration-type server resources according to the "permissions" or "role" of  the user.  Trusted Spaces enables secure, smart, self-service IT administration to save you and your team effort and time that can be better utilized elsewhere.
Testing and Synthetic Transactions
Our Testing Suite is simple to understand, simple to use:
Generate, send to any number of queues at any interval (scheduled or on demand), save the results, save the tests, compare number of messages and message content on queues.
Infrared360® employs an easy to use, proactive monitoring approach that lets you emulate transactions from and to anywhere in your environment. Our easy-to-use interface lets you effortlessly create behavioral paths which are monitored in your testing component. No actual traffic is needed, so you're able to test applications 24×7 or test new architecture elements prior to a live launch.
Infrared360® Advantages and Features:
It's a Portal – One product for all your Enterprise Messaging needs and all your Enterprise Messaging Environments.

Save time and headaches – NO deployment or upgrades of software agents or adapters to managed servers. No provisioning of users.

Reduce Helpdesk and Support costs – Secure delegated administration facilitates self-service!

Rest easy with Infrared360's Trusted Spaces™. Access to target objects are secured by group and role permissions and audit trails mark every action taken

Save Time & Headaches with Native Integrations & Automation. Whether simple notifications to 3rd party systems OR kicking off other processes via URL, SOAP, REST, Pub/Sub, even .SH.
User Auditing
Infrared360 leverages corporate security systems already in place. Our built in Trusted Spaces™ feature lets you give secure visibility and access to users based on their permission levels. And, you can delegate administration of endpoints by division, department, location, or any other segregation you need. Then, when you need to trace back what users have done in your environment, Infrared360 provides complete audit trails of everything every user has done.
Real-Time AND Historic Analytics
Unlike other solutions that write to logs and then reactively monitor and fire alerts from that logged data, Infrared360 provides Real-time monitoring with insightful analytics tools, in addition to full historic data.
Analyze data with intuitive drag & drop visualizations. No programming, just insight. Easily share dashboards, graphs, charts, or reports with anyone to get richer, collaborative insight. All the best practices of data visualization are built right in.
Infrared360 Innovations:
Infrared360® facilitates instant, yet secure access to environments that need to be managed and monitored NOW!
Infrared360® facilitates pro-active, not reactive – real-time analysis for collaborative teams.
Infrared360® facilitates automated, rule-based analysis of problem conditions.
Infrared360® facilitates automated corrective actions to problem conditions.
Infrared360® provides post action reporting and auditing trails.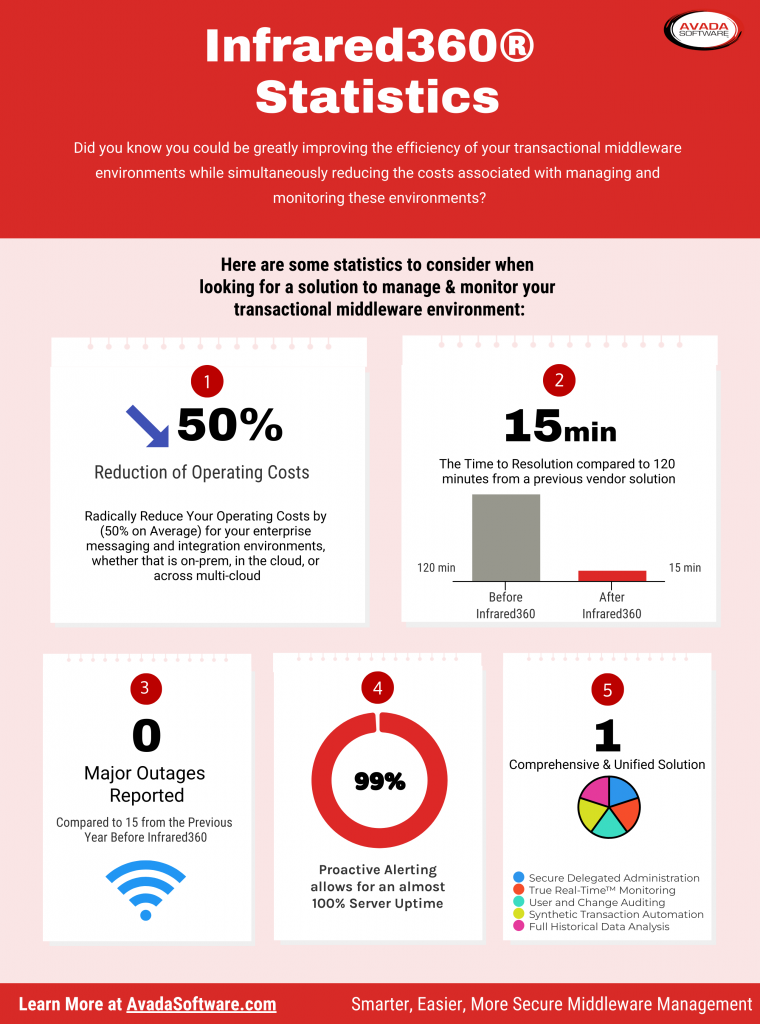 MQ Certificate Management
Spend less time managing keys and more time on mission critical activities. Never face server down-time due to missed renewals again. Plus, wouldn't it be nice to breeze through your next security audit?
Infrared360 manages the exchange of public keys and manages CA & Self-Signed Certs for IBM MQ. Get centralized inventory management. Receive timely expiration alerts and reports, track the expiration dates of SSL certificates, get notified before they expire.  Infrared360 offers a key and certificate management solution that helps you consolidate, control, manage, monitor, and audit the entire life cycle of IBM MQ keys and certificates. It provides visibility and helps administrators take total control to preempt breaches and compliance issues. See our IBM MQ Certificate Management page for more details.