On September 20 IBM Announced that IBM Support would be moving it's online forums to the IBM Community.
An announcement on their site explains that, to improve the support experience Support Forums will join the IBM Community on October 11, 2022. The idea is that the IBM Community already exists as a place where users go to access to others who are experienced and knowledgeable in the products.  Therefore it makes sense to utilize this best option.
On October 11 you can begin accessing  community.ibm.com to search for and discuss your products. At that time the original IBM Support forums will temporarily remain up, but as a read-only asset, no new posts will be able to be made. After November 11, 2022 the separate IBM Support Forums site will cease to exist all together.
A link to the IBM Community will be available on the current support forums but IBM recommends that you update any bookmarks you have pointing to the current Support site's Forums as soon as possible. You won't be able to do this until October 11.
This move makes a lot of sense, since the IBM Communities are already a place where you can access forums, blogs, experts, webcasts, and more about IBM products. Hosting forums on IBM Support there makes sense. If you're not a member of the IBM Community, it's easy to sign up using your IBM ID. You join the main IBM Community. Once you do,  in addition to the IBM Support Forums you'll have access to an array of groups you can join and participate in.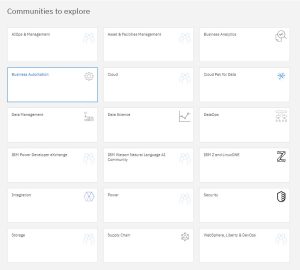 Groups have individualized topics news, discussions, libraries, Blogs, and events. Plus you can connect with  members of the groups. As a member you'll have access to a stream of constantly updated content, collaboration with peers, the latest white papers, webcasts, presentations, and research – all created  by members (which includes IBMers) for members.